The bankruptcy court in Massachusetts has a new judge, following the retirement of Bankruptcy Judge Joel B. Rosenthal.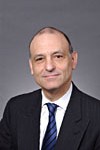 The new judge is Melvin S. Hoffman, perviously a bankruptcy lawyer in private practice. According to the court's press release, "Mr. Hoffman received a Bachelor of Arts degree from Yeshiva University and a J.D. degree from Syracuse University Law School. Mr. Hoffman is presently a partner in the firm of Looney & Grossman LLP in Boston, where he practices primarily in the areas of bankruptcy and insolvency work. He has a wealth of experience handling all manner of bankruptcy issues including representing commercial lenders and borrowers, serving as debtor's counsel in Chapter 11 bankruptcy reorganizations, appearing in Chapter 7 cases on behalf of trustees, secured and unsecured creditors, and representing consumer debtors in Chapter 7 and Chapter 13 cases.
Following his graduation from law school, Mr. Hoffman clerked for Judge Harold Lavien of the Massachusetts Bankruptcy Court, as the first law clerk ever appointed by a bankruptcy judge in Massachusetts. Mr. Hoffman has been active in the Bankruptcy Section of the Boston Bar Association and has provided pro bono representation to consumers in need of bankruptcy relief under the auspices of the Boston Bar Association. He has published numerous articles in the field of bankruptcy law and has presented many continuing legal education programs."
The newly minted United States Bankruptcy Judge Melvin Hoffman will primarily hear cases assigned to the court's Worcester courthouse.
By Doug Beaton