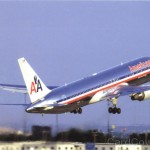 AMR Corp, the parent of American Airlines, somewhat surprisingly filed for Chapter 11 bankruptcy on Tuesday, joining a crowded group of airlines that have been through bankruptcy court lately.
Counter-intuitively, American's bankruptcy could be a good deal for Merrimack Valley consumers, as the airline is expected to cut fares and join in fare wars with JetBlue and Southwest. They will likely finance this by using bankruptcy court to renegotiate their contracts with union employees and airports.
Might be a good time to book a flight to a city where American flies!
I didn't know this, but as recently as two years ago in 2009, American was the leading airline out of Boston's Logan Airport. As of the time of the bankruptcy filing, they had fallen to fourth, with JetBlue being the new leader.
By Doug Beaton