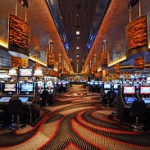 Two front page articles in the Boston Globe in three days has put in the news this fact: Foxwoods and Mohegan Sun, the two massive Connecticut casinos which are now seeking the first gaming licenses ever issued in Massachusetts, have sometimes gotten liens on gambler's Massachusetts homes for unpaid advances.
First, the Sunday Globe "exposed" the practice with a front page story outlining how the casinos extended credit to there customers, and when it was not repaid, sought and obtained liens on the gamblers' homes in Massachusetts.
In particular, the article follows a man from Revere who got in deep at both casinos, and ended up with over $80K of liens on his house. Revere just happens to be the proposed site for a new Mohegan Sun casino at the Suffolk Downs race track.
The article also outlines what happened to this debtor: he filed for bankruptcy in 2007, stripped off the liens with a motion, and died three years later. The property therefore passed to his heirs, and the casinos for once didn't collect.
Two days after the first article comes the news that Massachusetts Attorney General Martha Coakley (also at this writing a candidate for governor) has "urged Massachusetts regulators on Monday to prohibit casinos from placing liens on the homes of patrons with unpaid gambling debts, calling the practice "deeply concerning" in a letter to the state gambling commission."
Although the Globe claims, citing gaming experts, that it is unusual nationwide for casinos to place liens on their customer's homes, in general this tactic is quite common through all of Massachusetts collection law.
Liens on homes by private organizations like casinos are never issued without court approval after a lawsuit. Although wage garnishment is possible in Massachusetts, until very recently it not been a favored collection tactic, and the casino's customers are often retired persons anyways.
So in some way it makes sense that casinos as creditors would use the standard local collection tactic to collect debts.
What is important to realize is:
first, that the liens can often be removed in a bankruptcy case, so debtors need not suffer the loss of home equity, and
second, rather than sensationalize the casinos tactics, the real question to be asked is why are people of modest means being extended dangerous credit like high rollers in the first place?
by Doug Beaton