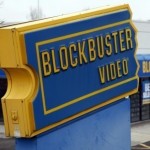 The bankruptcy court sale of the Blockbuster video store chain to satellite purveyor DISH TV is on temporary hold, so that the buyer can have some more time to decide what store leases it wishes to renew, and which ones it wants to abandon, according to wire service reports.
Dish's $320 million offer to buy all of the Dallas-based chain's assets was declared the highest and best offer after an auction April 6. Blockbuster filed for bankruptcy last September.
While the North Andover Blockbuster on Route 114 next to the Vineyard has been closed for about a month due to the bankruptcy, a sister store just a few miles north on 114 in Lawrence near the C1 Buffet remains open; I was in there just two days ago, and they are very much in business and have a good selection of the latest releases.
Photo by Reuters
By Doug Beaton