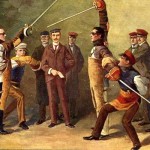 Homeowners who are successful and navigate the often arduous loan modification process are liable to "hit the roof" when they get a foreclosure notice anyway.
Yet this bizarre scenario is probably more common than you would think. The Boston Globe just ran a front page article on how a Lawrence woman is suing Bank of America for just such duplicitous behavior.
Quoted in the article is Kathleen day from the Center for responsible Lending who says ""It is all too common for banks to enter a loan mod and then try to foreclose on people and try to harangue them for money. All the evidence shows that servicing procedures and record keeping are just a mess. It ranges from disarray to out-and-out fraud.''
Homeowners caught in this nightmare can turn to the bankruptcy court for relief. Chapter 13 of the bankruptcy code can be used to force lenders to accept the terms of their prior bargain, and, of course, a bankruptcy filing halts the foreclosure proceedings and eliminates non-mortgage debt as well.
If you have been caught in this predicament, or know anyone in the Andover, Lawrence, Methuen and Haverhill area who is experiencing a "duel" between morgtgage modification and a simultaneous foreclosure, have them give me a call at 978-975-2608, and we can explore if a bankruptcy filing might be part of the solution.
By Doug Beaton