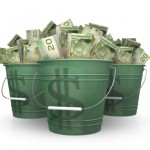 A Massachusetts bankruptcy court opinion by Judge Joan Feeney in Boston (the Cunningham case on April 12, 2013) serves up a reminder that there are in fact debt limits that apply in Chapter 13 cases — and can rule out this type of relief for some debtors.
The limits though, are upper limits, not minimums. This effectively means that some people can have too much debt to file a Chapter 13 bankruptcy! There are no such limits, however, in Chapter 7 (or for that matter, Chapter 11).
The Chapter 13 upper limits have even been revised recently: as of April 1, 2013, debtors must have less than about $383,000 in unsecured debts, or less than about $1.15M in secured debts (mortgages, etc.) to qualify.
The issue in the Cunningham case was whether a debt from a lawsuit in progress against the debtor counted against the unsecured limit. Judge Feeney's answer in short was "no," even though the case had progressed almost to the very end, where damages would be imposed.
By Doug Beaton