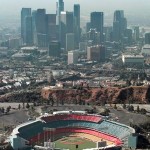 Less than a year after the Texas Rangers successfully emerged from Chapter 11 bankruptcy protection, major league baseball has another bankrupt team on its hands.
This time it's one of American sports' most storied teams, the Los Angeles Dodgers, who filed for bankruptcy protection yesterday.
The Dodgers' bankruptcy petition listed former Boston slugger Manny Ramirez as the team's largest unsecured creditor. Ramirez, who recently retired from baseball amid performance-enhancing drug allegations, is owed $21M in deferred payments from his long term contracts. Ramirez played for Los Angeles for three seasons after being traded by the Red Sox.
Unlike the last year's Rangers case, the Dodgers' trip to bankruptcy court could get ugly fast.
First of all, major league baseball isn't behind this bankruptcy filing, and baseball commissioner Bud Selig may be looking into what he can do to try to block it, up to and including terminating the Dodger's franchise. Selig is also against the Dodgers' attempts to sell their long term TV rights to Fox for the next 17 years.
Second, the bankruptcy is born out of nasty divorce proceedings between team owner Frank McCourt and his estranged wife Jamie, who is seeking half ownership of the team as her divorce settlement.
Stay tuned. It is sure to be a long hot summer off the field for the boys in Dodger blue!