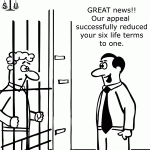 You need to be careful when you are hiring a bankruptcy lawyer.
I wish I didn't have to say that, and I am not claiming to be holier-than-thou with regards to other attorneys. I will do a good job on your bankruptcy case, but the plain fact is that there are dozens of other lawyers in the Merrimack Valley Greater Lawrence area who will do a good job with your case as well.
But there are attorneys out there practicing bankruptcy law who are toxic, there is no other way to put it.
Let's go for a minute to Orlando, Fla., where Christopher Rich has been placed on a one-year probation by the bankruptcy court for neglecting his clients. According to bankruptcy judge Karen Jennemann, Rich repeatedly fails to file documents with the court on time. This leads to many of his cases being dismissed, which shows up negatively on his client's credit reports as two or even three cases get filed and reported with no positive benefit to the debtors.
Judge Jennemann found that 28 separate cases were dismissed over a two year period by this single attorney for failure to file one type of document or another. She wrote that the clients "wait for months, sometimes years, to get routine discharges which they desperately need to resume a normal financial life." Obviously, if you have been thinking about bankruptcy, the last thing you need is to run into a lawyer that will put you through this sort of wringer.
Closer to home, a Southbridge, Massachusetts attorney has been ordered by a bankruptcy judge to return to his clients all the money they paid him for fees! Bankruptcy judge Melvin Hoffman wrote in the Otero case that the attorney would not show up for the meeting of creditors that each client was supposed to attend in Worcester. Sometimes an underling showed up instead, and sometimes a paralegal tried to pass herself off as a lawyer. Neither of this is acceptable in the Worcester district, as Massachusetts bankruptcy attorneys are expected to personally appear with their clients at these hearings, and not abandon them at a stressful time.
So the watchword is to take your time when you hire a bankruptcy lawyer and find someone who is ethical and who you can get along with. I'd love it if you'd consider my office (where we actually file the papers, and where I go to each hearing personally), but even if you decide on someone else, just make sure that someone else isn't a big ball of trouble!
(Cartoon by Stu.)
By Doug Beaton