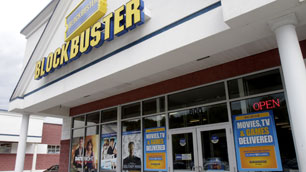 The Chapter 11 bankruptcy filing of the Blockbuster video store chain, reported here last September, has hit North Andover.
The Blockbuster store on Route 114 near Royal Crest apartments in North Andover is one of those that will be closing soon due to the bankruptcy. Right now they are having a final closeout sale, if you need to pick up some classic videos or games. I'm not sure how much is actually left in there, thugh.
And Blockbuster's bankruptcy case itself has turned nasty, with groups of creditors heading to court to argue over every minor point. Not what you want to see if you are trying to organize a corporate restructuring. It looks like this case could be heading to Chapter 7 bankruptcy, which means liquidation for a corporation.
Its already happening in North Andover.
(Update: the Wall Street Journal reports that Blockbuster has struck a deal with creditors that will avoid total liquidation).
By Doug Beaton