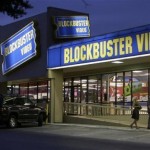 Remember going to the video store?
Like pumping bath water from a town well, for many Americans a trip to the local Blockbuster outlet is also a quaint reminder of a bygone time.
Blockbuster filed for Chapter 11 bankruptcy today, a move that has been in the works for a while.
According to the Associated Press, the once dominant rental company is "reeling from mounting losses, rising debt and competitors that have better catered to Americans' changed media habits."
The bankruptcy, filed in New York, will wipe out Blockbuster's badly battered stock, which was delisted from the New York Stock Exchange two months ago because it was nearly worthless.
All told, Blockbuster plans to reduce its debt from nearly $1 billion to about $100 million through the bankruptcy filing. The company has received commitments for $125 million in "debtor-in-possession" financing to repay customers, suppliers and employees during the reorganization. It is seeking access to $45 million right away to ensure it can pay movie studios to keep its stores stocked with DVDs.
Whether this can really help appears to be an open issue. Blockbuster has been losing market share for years to on-demand cable offerings, mail order operator Netflix, and supermarket boxes like the Redbox.
Blockbuster said in its filing it had about $1 billion in assets and $1.46 billion in debt.
By Doug Beaton