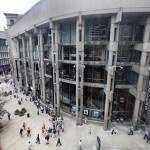 Just a quick update: the Borders bankruptcy liquidation sales could start as early as Friday July 22 at the remaining stores in the Methuen Loop, and the Borders Express in Salem, NH.
The Boston Globe has an excellent article on one of the factors that did in the chain bookstore: excessive browsing. Many folks used the Boston store as their own library, skimming works at lunch and buying them later on Amazon. I would add another factor: failure to have an entry in the e-reader competition, which would have captured at least some of those lost sales.
A Boston stock broker browsing the  store, who buys one book a month, wasn't surprised the chain is shutting down.
"I kind of saw the writing on the wall,'' he said. "The Internet is killing the business.''
By Doug Beaton