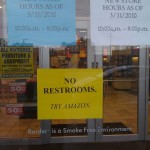 There are signs that the bankruptcy of the Borders bookstore chain may be over quickly.
Borders has asked the bankruptcy court to approve a July 19th auction of the company, according to Bloomberg News.
They would then like the sale completed by July 29th, just about wrapping up their trip through the bankruptcy process.
One potential snag for customers, though: If bidders who want to run the remaining stores do not emerge, Borders will also consider bids from liquidators. If they have to go that route, it would spell the eventual end of the remaining Borders outlets.
That's tough news for those of us who like Borders' Methuen store at the Loop, or their discount center at Salem, NH's Mall at Rockingham Park. If the bankruptcy turns into a disguised liquidation, where am I going to buy my beloved opera DVDs?
Amazon, I guess!