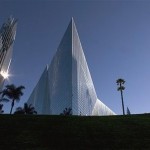 The Roman Catholic diocese serving Orange County in Southern California has been awarded the winning bid in the bankruptcy sale of Rev. Robert Schuller's iconic Crystal Cathedral in Garden Grove, Calif.
The Crystal Cathedral has been in bankruptcy proceedings since 2010 due to a dramatic dropoff in contributions. The church is known for its Hour of Power television service.
The diocese will pay $57.5 million to use the building in Garden Grove made of 10,000 panes of glass as a long-sought county-wide cathedral.
"I'm really pleased to know that this campus is likely for at least decades, if not centuries, to be kept as a sacred place of worship,'' Carol Milner, daughter of church founder Rev. Robert H. Schuller, said after a hearing in bankruptcy court.
The elder Schuller started the Crystal Cathedral as a drive-in church in the 1950s under the auspices of the Reformed Church in America. Decades later, the Southern California ministry evolved into an international televangelism empire and erected its now-famous building.
By Doug Beaton