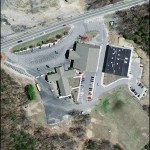 Disputes over real estate values are becoming a hot topic in bankruptcy court again, after years of dormancy due to the recession.
A recent Massachusetts case decided by bankruptcy judge Melvin Hoffman in the Worcester division of the court gives a behind-the scenes look at some of the problems that crop up when debtors and creditors argue over property values.
The case is the matter of Twin City Baptist Temple (November 12, 2013), and although it involves a Chapter 11 filing by a church, there is plenty in the opinion of interest to the average debtor or creditor.
At issue was the value of the temple's complex in Lunenburg, consisting of a church, a school, and a gymnasium. The church said the property was worth $1.7 million, the mortgage holder said about $3.2 million.
The appraiser from the bank presented comparables mostly from buildings that had been used or were being sold as schools, meaning that he searched the state of Massachusetts for sales of large school buildings, and reported on sales as far apart as Boston and Granby in western Mass.
The appraiser for the church, however, did not restrict himself to school buildings for comparable sales, and so reported on a motley collection of large buildings, but they were all sales in the Route 2 corridor close to Lunenburg.
Judge Hoffman found the latter approach more reasonable, and adopted the church's lower valuation, even though their appraiser had to make a lot more adjustments for the different uses involved.
The judge also tipped his fondness for one of the the three most common methods for proving the valuation of secured claims. Those would be 1) putting the burden of proof on the creditor always; 2) putting the burden on the challenger to a claim always; or 3) using a "burden-shifting" approach, which was what the judge went with.
Under the burden-shifting method, a secured claim is initially presumed to be correct. Any objecting party must provide "substantial evidence" of a different value with its objection. if they do, then the burden shifts back to the claim filer, and they must then counter with substantial evidence of their own.
Since the advantage under the burden shifting scheme rests with the filer of the claim, consumer bankruptcy attorneys might want to think about filing claims on behalf of creditors in cases where values are likely to be contested (like tax matters).
By Doug Beaton