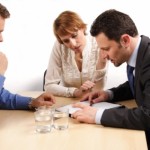 You are probably aware just how difficult it can be for a homeowner to get a mortgage modification when he or she needs one. Perhaps you have had a personal experince trying to get your mortgage modified, only to be told "no" after submitting reams of paperwork.
Is it possible that a bankruptcy court mediation could help speed up the process, and lead to more modifications, to boot?
Well, such a program is being tried in the Orlando bankruptcy court, where co-operation between the judges and the Chapter 13 trustees has meant the creation of a mediation program WITHIN the bankruptcy court, which so far has an impressive track record getting debtors and lenders to agree on new terms.
Make no mistake about it, there is nothing that a bankruptcy judge or trustee can do to force banks to modify most mortgages. But the respect that the court system engenders seems to have its own special effect, and it tends to bring the parties together. Plus, bankruptcy judges DO have the powere to enforce voluntary agreements made in their courts. Also, each side has a little "skin in the game," as both the debtor and the bank must pay $385 to defray the cost of the mediation sessions.
I'd love to see the bankruptcy courts serving the Merrimack Valley try something like this. No less than Florida, Lawrence, Methuen, Derry and Haverhill are in an area hard hit by the housing crisis.
I bet there are a lot of folks out there who would be willing to to pay $385 to get their mortgage modification done in bankruptcy court, without the frustration and baloney that they usually encounter.
By Doug Beaton