Most people don't just wake up one morning and decide to file a bankruptcy case; there is always some particular catalyst that makes bankruptcy a possible option. I talk to a lot of people who are thinking about it, and a common reason for example is "I lost my job."
There's a couple in Idaho, however, who had an uncommon reason for heading to bankruptcy court — they ended up living in a snake infested house!
Ben and Amber Sessions thought they were buying into the American dream when they purchased thier rural Idaho farmhouse a few years ago. It turned into a nightmare when they discovered the house had been built directly over a garter snake den.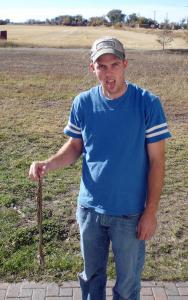 Ben Sessions (pictured) once killed 42 of the non-poisonous but slithering reptiles in a single day!
Sessions would collect dozens of the snakes in buckets. Sometimes there were so many crawling that the yard seemed to move. Investigating, he found dozens of snakes in his roof overhang and crawl space.
The last straw was when snakes got inside and scared his pregnant wife.
Having purchased what townspeople call the "snake house" for $180,000, the Sessions felt they had no alternative other than to literally walk away from the reptilian nightmare. They filed a Chapter 7 bankruptcy case and let the home go to foreclosure.
After the bankruptcy the new owner, J P Morgan Chase, tried to list the property for $114,900, but (no surprise) there were still no takers. Even with the price cut to $109K, it is still bank-owned property to this day.
Here in Massachusetts and New Hampshire, chances are no one will ever have to file for bankruptcy due to snake infestations. But unexpected problems of whatever nature do occur, and when they do, my office is ready to guide you through the bankruptcy process.