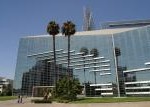 Hey, a bankruptcy lawyer would never be sad to hear about a new bankruptcy case, right?
Not so, at least for me, for today brought the news that the Crystal Cathedral, the Garden Grove, Calif. megachurch founded by Rev. Robert Schuller, has filed for reorganization under Chapter 11 of the bankruptcy code.
Rev. Schuller started his ministry at a drive-in movie theatre in the 1950's, and built up a large congregation, an iconic glass-walled church building in Orange County (which filed for bankruptcy itself a few years back), and millions of viewers world-wide who watched the televised "Hour of Power" services.
As a leading proponent of the benefits of positive thinking, I have always been an admirer of Rev. Schuller and his enthusiasm, so I do feel sad to see his ministry in financial difficulty.
The basic problem is neither complicated nor scandalous; it simply seems that contributions are down at the same time need among the 10,000 parishioners is up. Simply put, the great recession has dealt the church a setback; lets hope the bankruptcy filing can buy enough time to see a Schuller comeback.
"Budgets could not be cut fast enough to keep up with the unprecedented rapid decline in revenue due to the recession,'' Senior Pastor (and daughter of the founder) Sheila Schuller Coleman said in a statement.
Many other religious groups find themselves in a similar bind. US churches are struggling financially because high unemployment has cut weekly offerings, according to Wayne Bradshaw, president and chief operating officer of Broadway Federal Bank. The Los Angeles-based lender does about 25 percent of its lending business with churches.
By Doug Beaton