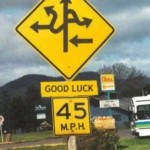 The meeting of creditors for bankruptcy debtors who live in Lawrence, Andover, North Andover, Methuen and Haverhill are held at 446 Main Street in Worcester, Massachusetts. Here are driving directions from the Merrimack Valley area:
From the Lawrence area, take I-495 South to I-290;
Take I-290 West to Exit 16 (MLK Jr Blvd) in Worcester;
At the end of the exit ramp, turn right at "99″ restaurant;
Follow this road (East Central Street) past the DCU Center until
it ends at Main Street.
Go left on Main Street; then straight through downtown Worcester
for several blocks;
The trustee's office (No. 446) is on the right in a large office
tower opposite City Hall (there is a Sovereign Bank in the front
of the building);
Parking meters are available on Main Street and side streets;
parking garages are in the area. There is a parking garage on
Pleasant Street that connects directly to the building. Ignore
the signs for COURT PARKING – you are going to an office
building, not the court house!
By Doug Beaton