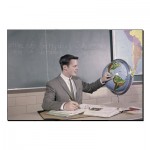 In order to get a discharge in a consumer bankruptcy case, the 2005 version of the bankruptcy code requires debtors to go to school — that is take and finish a 2 hour course on "financial management" (what used to be called family budgeting), and file the course certificate with the court. No certificate, no discharge.
But Florida bankruptcy lawyer Jonathon Alper has run across a case where a debtor didn't want to take that course.
Usually debtor's who file Chapter 7 cases are "locked out" and can't file chapter 7 again for eight years. But the lock out is effective only if they get a discharge in the first case.
So what happens if a debtor unexpectedly gets hit with a large unsecured debt right after the case is filed?
The Florida lawyers figured out a clever strategy: don't take the financial management course. That way, the court eventually will dismiss the case without issuing a discharge. The debtor is then free, in theory, at least to re-file under Chapter 7 and include the large debt. When the case is re-filed, the debtor WILL take his course, and then should get a discharge in due course.
Whether this gambit would actually work in the Massachusetts or New Hampshire bankruptcy courts is any one's guess, but I thought it was a clever bit of strategizing by my Florida counterparts.
By Doug Beaton