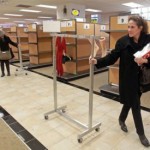 One of the downbeat Massachusetts bankruptcy stories of 2011 had a bitter conclusion on Dec. 29th, when the last of the Filene's Basement stores closed for good.
The Boston retail legend, which filed for bankruptcy for the third time in October, was shuttered after selling off its remaining inventory, plus the store fixtures themselves.
The last bargain hunters were busy scooping up $2 Calvin Klein jeans, $10 shoes, and winter coats for $20, in an assortment of odd sizes.
This is a sad bankruptcy story, because Filene's Basement was essentially run into the ground by the Sym's chain, which purchased it a few years ago. About 1500 workers will lose their jobs. And this looks like the end of the line for the Filene's name, which had been a part of the retail landscape in the northeast since 1909, when Edward A. Filene opened up the basement area of his father's store in Boston as a place to discount clearance goods.
By Doug Beaton