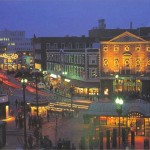 While bankruptcy forms may be endlessly amended, there is much to be said for submitting them correctly at the outset of the case.
A good example of this can be found in the Yonjan case, a recent decision by bankruptcy judge William Hillman in Boston.
There the debtor was the former operator and president of a restaurant in Harvard Square. he had signed a personal guaranty for debts due to one of the restaurant's suppliers, but neglected to list it on his original bankruptcy papers. When the restaurant itself filed bankruptcy, the supplier started chasing the debtor, filing suit against him in Taunton District Court.
Debtor Bikram Yonjan responded by trying to reopen his personal bankruptcy case for the purpose of listing the guaranty and the debt. The supplier complained, saying that reopening might allow the debtor to try to discharge some post-petition debts as well.
Judge Hillman wasn't able to make a ruling based just on the papers submitted by the parties, and has now scheduled this case for a full trial! Obviously, if you have a personal bankruptcy case, this is the last way you want it to end. Hire a good attorney, give him all your paperwork and try your best to have your case complete the first time it is filed!
By Doug Beaton