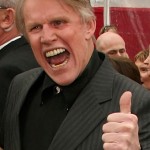 It's largely been overshadowed by the news of Whitney Houston's untimely death, but actor Gary Busey filed for Chapter 7 bankruptcy last week
The idea is not to unduly embarrass Busey, who joins a long parade of celebrity bankruptcies both recent and historical, but this filing is a bit of a cautionary tale. The actor's papers indicate that he has left than $50,000 in assets remaining from his long Hollywood career.
Celebrities are really no different from anyone in any other business — they use the bankruptcy code to get a fresh start when financial circumstances have ground them down.
It works for people in Hollywood, and it works for people in Massachusetts and New Hampshire, too. Let's hope Busey gets the fresh start he needs, and that we see a lot more of him in the years to come.
By Doug Beaton