There may be a silver lining for bankruptcy debtors who have a yard full of old cars or trucks that they own.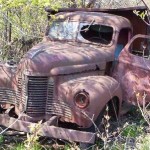 Last January, the Supreme Court dealt bankruptcy debtors a tough blow — they ruled that they could not take a "vehicle ownership" deduction on the means test for cars and trucks they owned outright, without any loan or lease encumbering them. For a couple with two cars owned outright, that' s a loss of almost $1000 in means test deductions.
Bottom line: it made it harder for debtors to qualify for Chapter 7, and made it more expensive for them to pay for Chapter 13 plans.
But there is an obscure deduction out there that offer at least a little bit of partial relief. If a bankruptcy debtor's car is older than 7 years, and has more than 75,000 miles on the odometer, a $200 dollar "clunker" deduction comes into play. (The theory apparently is that older cars cost more to run and maintain).
This little known exception can save the day if you need to file for bankruptcy and have one (or more) older cars sitting in your driveway.
By Doug Beaton