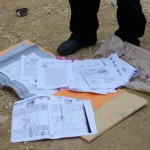 We briefly interrupt your holiday preparations for breaking news — Massachusetts governor Deval Patrick has signed into law some of the biggest changes in the Massachusetts homestead exemption in many a year.
When the new law takes effect in mid-March of 2011, it will no longer be necessary for every homeowner contemplating a bankruptcy case to file a declaration of homestead at the county registry of deeds.
Instead, homeowners will automatically be able to protect up to $125,000 of home equity after they file bankruptcy, without filing any additional papers.
Homeowners who have more than $125,000 in home equity will still be able to protect up to $500,000 by filing the declaration with the registry in the usual way. But for homeowners who have small amounts of equity, a paperwork hassle will be avoided.
The new law also allows continuous homestead protection when real estate is transferred between relatives, when homeowners collect insurance proceeds after storms or fires, and after refinancing or placing a home in a trust for estate planning purposes.
Forward-thinking homeowners may wish to file the declaration of homestead anyway. If and when the real estate market rebounds, they will be automatically protected up to the maximum $500K amount without further worry; its the type of good financial planning move that debtors would be wise to take advantage of.
Debtors who live in Lawrence, North Andover, Andover, and Methuen file their homestead declarations with the registry of deeds in Lawrence. The filing fee is $35.
By Doug Beaton