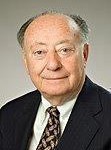 According to an article by Michele Richinick in the Boston Globe, Joseph Braunstein, who was a bankruptcy attorney in Massachusetts for 55 years has died.
Attorney Braunstein died in Florida in September, 2013 of a heart attack. He was 84 years old.
In recent years, he was best known as a bankruptcy trustee handling cases in the Boston courthouse. But over his long career, he had taken on almost every type of bankruptcy work, except being a judge, and had even practiced in Essex County decades ago before moving his firm into Boston.
"He had that talent of remembering what everyone's interest was and had such a nice, open and friendly way about him that he always connected with people," said Stanley Riemer, a managing partner at Mr. Braunstein's firm who knew him for four decades or more.
Mr. Braunstein never retired. He served as a court-appointed bankruptcy trustee and was affiliated with the American Bar Association, the American Bankruptcy Institute, and the Massachusetts Bar Association.
He was elected to the American College of Bankruptcy, for which he was a member of the pro bono committee.
"He was praised by judges for being incredibly deferential to anybody," his son said. "He treated everyone with caring, kindness, [and] thoughtfulness."
And he will be missed by many people in the close knit community of bankruptcy practice.
By Doug Beaton