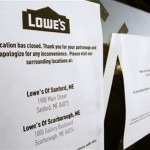 Today brings the news that the Lowe's home improvement store chain has closed it's Haverhill store. What is a little unusual is that Lowe's has not also filed a bankruptcy petition in association with the closing.
In fact, the big-box chain is flush with cash.
But that doesn't mean there won't be any personal bankruptcies in Haverhill arising from the closing, because over 100 employees were given pink slips.
Lowe's also closed three stores in New Hampshire (although the Salem store on the Methuen line at Route 28 remains open), and more around the country.
When you hear of a chain store closing, there often is a bankruptcy case associated with it, because the bankruptcy code allows debtors to break leases as part of the case. Store leases are often long-term, so getting out of them is worth a lot to strapped retailers.
Similarly, the bankruptcy code allows individual debtors the chance to get out of their auto and apartment leases if they file for personal bankruptcy.
By Doug Beaton