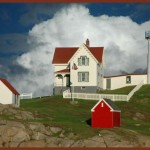 Here's a twist that you don't see everyday in the bankruptcy courts: a Massachusetts couple who filed a bankruptcy case were allowed claim a homestead exemption to protect their vacation condo in York Beach, Maine.
Massachusetts bankruptcy judge Melvin Hoffman ruled that the federal homestead exemption — found at 11 USC section 522 (d) (1) — could be used to protect any residence, and not just a "principal residence." The case is called In re Lawrence.
Since there was little question that the condo was in fact used a residence — at least part-time, the federal homestead exemption did apply, since there is nothing in that section of the bankruptcy code that talks about a "principal" residence, just a residence.
Of course, this being the world of law — and life — there is a catch. And the catch is that you can only exempt one property using the federal homestead exemption. Although it is not explicitly addressed in the In re Lawrence opinion, the underlying assumption is that the debtor's main home in Massachusetts was underwater on a mortgage or two, and therefore would be lost to foreclosure despite the bankruptcy.
The debtors therefore were in the process of packing up and shipping their belongings to Maine, where they will try to regroup while living in the condo.
And thanks to a generous reading of the bankruptcy code, that plan looks like it is going to work out.
By Doug Beaton