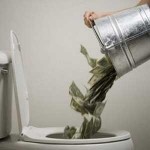 For Massachusetts bankruptcy lawyers, a good example of how not to get paid cropped up recently with a bankruptcy appellate panel at the First Circuit Court of Appeals in Boston.
In the Stone case, an attorney sought over $9,000 in attorney fees for representing married debtors in a Chapter 13 proceeding. The appeals court whacked that back to $3,500, plus some expenses.
Its interesting to note that the attorney filed for the couple an initial 60 month Chapter 13 plan that called for payments of only $35, despite the fact that the couple's combined income was estimated at $111,000.
The trustee's response was perhaps predictable: she attacked the claimed living expenses on Schedule J, especially the figures for entertainment. In response, the debtors filed two amended plans upping the monthly payments to $860 per month.
It seems most of the attorney's fee application was for dickering over the amount of living expenses. In all, $2,500 was a retainer, $4,000 was for these "additional expenses," and $1,700 was for preparing the fee application itself.
However, the court characterized much of the lawyer's work as "meritless." In its view, had Stone appropriately limited the debtor's expenses to those which above median income debtors could lawfully claim, then a plan calling for devotion of the proper projected disposable income could have been prosecuted to confirmation straightforwardly, at far more modest cost.
Since this is a binding opinion in both Massachusetts and New Hampshire, attorney's handling bankruptcy cases in these states should avoid repeating the same mistakes!
By Doug Beaton