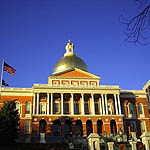 Well, 2011 is certainly getting off to a bang in the Massachusetts bankruptcy and foreclosure arena.
While bankruptcy is a federal matter, much of the action is on the state government side, as legislators on Beacon Hill are getting ready to introduce a slew of bills that will affect bankruptcy debtors.
First up is Secretary of State William Galvin, with a proposed bill to require all foreclosure cases to go through a Massachusetts state court judge before being valid. If the bill becomes law, Massachusetts will join 23 other states with so-called "judicial foreclosure" rules.
Another bill would force lenders to prove they possessed a valid title for a property before an eviction.
A third bill expected to be filed this week would require foreclosing banks to negotiate with homeowners by sitting down with a third-party mediator. It is meant to improve legislation signed into law last summer that forces lenders to wait 150 days to foreclose, instead of 90 days, if they don't negotiate with a troubled borrower.
The effectiveness of the August 2010 changes are already being questioned, as many banks just prefer to wait the 150 days without negotiating.
Then there is legislation scheduled to be introduced this week that would provide new protections to homeowners who have lost their homes to foreclosure. Last year's llegislation provided renters protection against evictions, but didn't help former homeowners.
All in all, it is a busy time on the legal front for Massachusetts bankruptcy and foreclosure attorneys!
By Doug Beaton