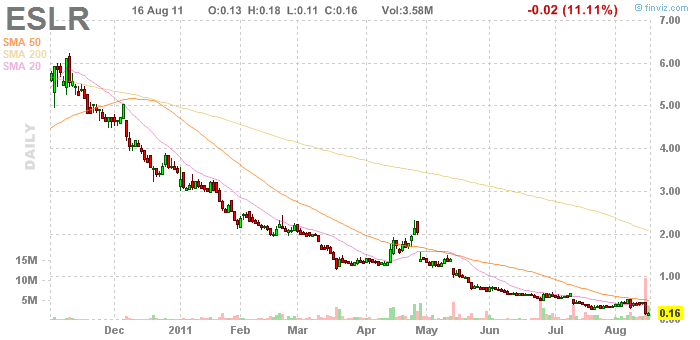 The latest Massachusetts bankruptcy filing involves the once high-flying Evergreen Solar firm, which enetered Chapter 11 yesterday. Evergreen Solar makes silicon wafers for the interior of solar energy panels, and it president blamed cheaper competititve products being made in China for the company's woes.
The chart above shows Evergreen's stock price falling for $6 to basically nothing in the last year, but that's only part of the story. The stock has fallen from the mid-$60's per share since 2008.
Chapter 11 bankruptcy, of course, is about reorganization and renewal, but the prospects here seem muted at best. Theodore O'Neill, an analyst with Wunderlich Securities told the Boston Globe "Why this stock is trading at any price above zero, I don't know. There's nothing to bid on. Nobody would want any of this stuff. It's a nonstandard size. What's the value of the scrap metal inside? That's the worth of the company."
In its bankruptcy filing in US District Court, Evergreen listed assets of $424.5 million and debts of $485.6 million. The company owes its top 20 creditors $224.4 million, including the money to the Massachusetts Development Finance Agency.
By Doug Beaton