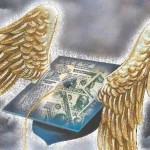 Getting out from under a load of privately held student loans is no easy trick, even in bankruptcy court.
Debtors may have a new weapon soon, however, as the idea of re-financing these loans at lower rates is just getting started.
According to Sheryl Harris in the Cleveland Plain Dealer, Charter One Bank in Ohio ha joined a small group of lenders willing to take a chance on these kinds of loans. Ms. Harris reports Charter One is offering graduate debtors either a 5.24% fixed rate or a variable rate that is currently about 3% to refinance.
No word on whether anything like this will be available in Massachusetts, but according to Harris, "as a result of steady pressure from the Consumer Financial Protection Board, college graduates can expect to see other banks and credit unions roll these products out."
By Doug Beaton
(Artwork by Cleveland Plain Dealer)