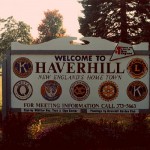 For some blog posts, I was looking around for famous or important bankruptcy cases arising out of Haverhill, Mass. — and sort of came up empty!
Lawrence and Methuen hit the news with the Malden Mills fire and that firm's subsequent bankruptcy. The Andover and North Andover areas were bankruptcy central for a few years when the tech CEOs living there got hit by the dot-com bubble bursting.
But Haverhill has largely avoided any bankruptcy headlines. Plenty of "ordinary" citizens file there, of course. Haverhill attorney Anthony Rozzi told the Boston Globe back in Febuaury that he didn't expect to see any slack in future bankruptcy filings either.
As for the big national bankruptcy cases, they appear to have avoided Haverhill as well. Borders never had a store there, and the local Blockbuster outlet appears to be still in operation.
All in all, Haverhill bankruptcy cases seem to be comprised of the routine, rather than the extraordinary, which is probably all for the better!
By Doug Beaton