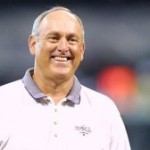 With the baseball pennant races heating up, (and with the Texas Rangers currently in first place in the American League's West division), it's time for a final report on the results of the Rangers' bankruptcy case, which saw the team go on the auction block in early August.
The winning bidders: Hall of Fame pitcher Nolan Ryan and his partner Chuck Greenberg, who ponied up $593 million to control the perennial lone star state also-rans. That beat out a bid by a group led by Mark Cuban, already owner of the Dallas Mavericks NBA basketball team.
The bidding was spirited, to say the least, with attorneys for the rival buyers shouting each other down in the courtroom, arguing various alleged improprieties.
With bankruptcy being all about getting a fresh financial start, this Boston fan wishes Ryan and his Rangers all the best at turning his team around — financially at least!
By Doug Beaton