Editorial cartoonist Dave Granlund has this take on the recent bankruptcy filing of Twinkies maker Hostess Foods on the North Andover Wicked Local website, and I couldn't resist putting it here too: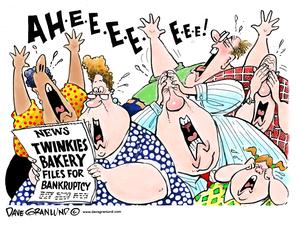 Twinkies are still being sold — the company is in Chapter 11, not liquidation — and there are still a lot of people around who could use a little weight loss (including myself).
So it's not quite the panic implied here.
Wicked Local is a good source of all kinds of news from around here — not just financial or bankruptcy stuff, and I wish all the towns in the Merrimack Valley had one.
By Doug Beaton