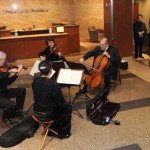 Last year, these pages adopted major league baseball's Texas Rangers, who filed for bankruptcy in mid-summer and went on to win the American League pennant, as a tangible symbol that the bankruptcy process really represents a beginning, as well as an end.
I think this year's bankruptcy poster children will be the players of the Philadelphia Orchestra, whose board voted last weekend to authorize a bankruptcy filing to protect the ensemble's endowment. The appears to be the first major bankruptcy case in the fine arts world related to the recent "Great Recession."
Although the move apparently has worried some of the musicians, the bankruptcy will not disrupt any of the Orchestra's operations, specifically their remaining concert dates. Or as they put it in a press release, "the music plays on."
With that spirit, lets give our approval to this Chapter 11 case, and hope that the "solid gold Cadillac of orchestras" returns to financial stability quickly.
In the meantime, enjoy some of their uplifting sounds: Philadelphia Orchestra performs in Vail
If you wish, you can text "POGIVE" to 27722 to make a $5 donation through your mobile phone.
By Doug Beaton