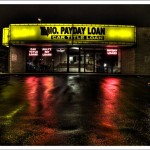 When you're running out of cash, it's not uncommon for folks to turn to payday loan centers for the little extra they need to get by until their next check arrives.
It's almost always a bad deal. They know its a bad deal, too (hey, 400% interest can't be good, right?), but they are stuck, desperate, and give it a whirl. Pretty soon they are stuck in yet another debt cycle.
Need a way out? Filing a Chapter 7 bankruptcy case will do the trick. Contrary to what many people are led to believe, payday loans are generally not secured debts, and can be readily eliminated in bankruptcy court.
Once a bankruptcy case has been filed, there is no obligation on the part of the debtor to make any more payments. Post-dated checks cannot be cashed (legally, anyway — it doesn't mean they won't try).
In New Hampshire, it is specifically illegal to hold car titles to secure these loans.
Beyond the multitude of shops that line Route 28 in Lawrence and along the Massachusetts – New Hampshire border, another problem is the phenomenon of the "internet" payday loan service. I have found these are often run out of Indian reservations in the West, and although the bankruptcy laws apply equally to them, they can be especially hard to track down and kill off. So at all costs, avoid these companies!
By Doug Beaton