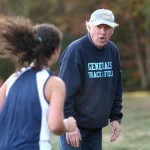 A nice profile of Hamilton – Wenham high school running coach Steven Sawyer by Boston Globe correspondent Doug Saffir shows how the coach stresses the importance of positive thinking instead of the won-lost record.
The result? His teams' records are truly impressive; the girls team has won 68 Cape Ann league meets in a row over several years, and the boys are undefeated so far this season as well.
According to Saffir, Coach Sawyer's credo is "I like to make sure my kids are happy and smiling. I tell them to enjoy life: Do well in school, take care of your parents, take care of your teammates, and just enjoy life,'' said Stephen Sawyer, who has been in charge of the program for more than three decades. "I tell my kids to race happy, and they like that.'' Sawyer has coached cross country at the high school for three decades.
"The kids have to be happy and feel good about themselves. Winning is important, but it's not everything in life,'' Sawyer said.
"Through this program, I hope to make some of these kids better human beings — and we're doing a pretty good job of that right now.''
Great advice that we all can heed, especially if we are facing the stress of financial difficulty or other personal problems!
Photo: Doug Saffir
By Doug Beaton