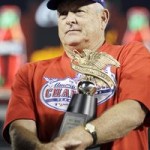 Baseball's World Series starts tonight, featuring the American League champion Texas Rangers against San Francisco.
We have been following the Rangers all summer, as they are the only North American sports franchise to emerge from bankruptcy protection recently.
And emerge they did, winning the West Division and eliminating the Yankees for the pennant.
It is not just a feel good story for Texas fans, but a good lesson in the advantage of having a well-run bankruptcy court system.
Even though the Rangers went on the auction block in August, and were purchased by a group led by ex-pitcher Nolan Ryan, shown above cradling the trophy, they still managed to have a successful season.
And the prior bankrupt owners even managed to pull off a trade for ace pitcher Cliff Lee in July; Lee was key in defeating the Yankees and will start game one tonight.
Contrast that with the English bankruptcy system. Tom Hicks, the Rangers owner who got into financial trouble, also owned a stake in the Liverpool soccer club in England. Liverpool recently had to be sold at fire-sale prices (to a group led by Red Sox owner John Henry, no less) because entering "administration," the British bankruptcy equivalent, carries a three-game penalty in the standings.
Our more enlightened bankruptcy code, however, prohibits such discrimination against those who file. So good luck to the Rangers, and we will remember the assist they got from our bankruptcy laws!
By Doug Beaton