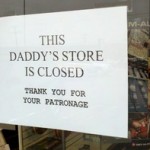 The Daddy's Junkie Music Store in Salem, NH has closed its doors, along with the rest of the chain's operation. So far, Daddy's has not filed for bankruptcy.
This marks the second time this week that a chain store operation has closed a store in the Merrimack Valley without also filing for bankruptcy.
Daddy's has reportedly closed all its retail operations, and laid off all employees. Well known to musicians in the Northeast, the store was hit hard by a combination of the recession and a dispute with management over compensation that cost the owners at least $600,000.
Typically, store closings in the Merrimack Valley ARE tied to bankruptcy filings, making Lowe's and Daddy's something of an anomaly. The bankruptcy case makes it possible for the store chain to shed itself of unwanted lease obligations for the shuttered locations.
By Doug Beaton