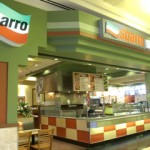 The bankruptcy rumor mill is back in high gear again, with today's newsbeing that Sbarro's franchise chain, with their ubiquitous sandwich and pizza outlets in the Northeast and Midwest, will be filing for bankruptcy protection shortly.
The chain has $300 million in debt, mostly bonds, and has been in default since February. Senior lenders have signed off on three forbearance agreements so far, but when the third one expires, this chain could be knocking on the door down at bankruptcy court.
As always, we hope that local damage is minimal, and that the Danvers and Salem, N.H. outlets emerged unscathed from a Chapter 11 bankruptcy proceeding.
By Doug Beaton