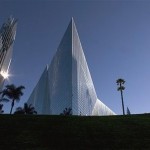 The Crystal Cathedral — the Southern California ministry founded by noted positive thinker Rev. Robert Schuller has filed with the bankruptcy court its plan from emerging from the debt load that caused the church to seek Chapter 11 protection last fall.
Boiled down to its essence, the mega-church's plan is sell it's sprawling complex in Garden Grove, Calif. to an investor, and then lease it back. Services and classes would not be interrupted, and the popular "Hour of Power" would continue broadcasting.
The church hit a rough patch in recent years due to a botched sucession plan. The 84 year old Rev. Schuller wanted to hand over responsibilities to his children, but contributions plunged and his oldest son left the ministry.
The church's plan needs to be approved by a bankruptcy court judge at a hearing set for July 13th.
By Doug Beaton