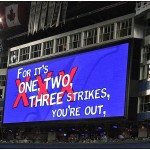 In the world of bankruptcy, filing three Chapter 13 cases in a single year is not a sign things are going to turn out well for the debtor.
And in the James case in the district of New Hampshire, it indeed did not go well.
The basic problem is that by the time a debtor gets to three filings in a year, he no longer gets ANY automatic stay upon filing, so that collection activity may proceed apace despite the filing.
A secondary problem is that the debtor's good will with the bankruptcy system is shot. In fact, a three time filer has to face a presumption that his case is an abuse of the system that is better broomed away quickly. It is up to the debtor to show how his situation has changed so that the new plan is feasible and likely to be completed.
In the James case (released January 17, 2014), bankruptcy judge J. Michael Deasy shot down a debtor's attempt to do this. The debtor, an attorney who was married to another attorney and both operating their own law offices, tried to show his wife's practice was sufficient to fund a Chapter 13 plan, but the judge found the wife's own financial statements belied any real change in circumstances since the first two cases.
The motivation for the multiple filings here appears to be an attempt to avoid a large out-of-state child support order that was due in a lump sum payment; but with the debtor's good-will shot, it appears to be a case of three strikes and you're out.
by Doug Beaton