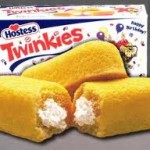 The makers of the once popular lunch snack Twinkies and Ring-Dings have filed for bankruptcy for at least the second time.
Hostess Brands still has enough cash to keep store shelves stocked for the time being. But the iconic brands they make have been hurt by a shift to healthier eating habits among Americans.
Hostess will use the bankruptcy filing to try to modify its union contracts. Competitors such as Entermann's and Little Debbie are not union shops.
A few years ago, when the Twinkie maker was known as Interstate Bakeries, it operated a retail shop in Lawrence. Then Interstate, which also makes Wonder bread, filed for bankruptcy. The firm changed its name to Hostess Brands when it successfully emerged from Chapter 11. Now it is back in bankruptcy court once more — hopefully not for good!
By Doug Beaton