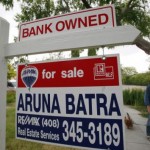 Recently I posted on how unemployment is now the biggest reason for the surge in foreclosures in the Merrimack Valley (it used to be predatory lending, the so-called "liar loans.").
It turns out that the situation here on the Massachusetts – New Hampshire border is just a reflection of what's going on all over the nation.
Alex Viega reported for the Associated Press today that the U.S. is on pace to have more than one million residential foreclosures in 2010. A typical year would see only 100,000.
Viega writes that "economic woes, such as unemployment or reduced income, continue to be the main catalysts for foreclosures. Initially, lax lending standards were the culprit. Now, homeowners with good credit who took out conventional, fixed-rate loans are the fastest-growing group of foreclosures.
There are more than 7.3 million home loans in some stage of delinquency, according to Lender Processing Services.
The Obama administration's $75 billion foreclosure prevention effort has made only a small dent in the problem. Over a third of the 1.2 million borrowers who have enrolled in the mortgage modification program have dropped out."
If loan modification isn't working for you, bankruptcy might. A call to a bankruptcy attorney doesn't take much time, doesn't cost you upfront, and will set you straight on the facts, costs and procedures.
Photo: Paul Sakuma, Associated Press
By Doug Beaton