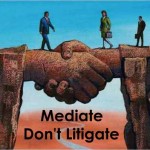 Massachusetts has another shiny new foreclosure prevention law on the books this month — the second new one in two years, but perhaps the biggest feature of this piece of legislation is what isn't in it.
Mandatory mediation for homeowners seeking mortgage modifications.
Under the original proposal of the state Senate, before a residential foreclosure could be started, the lender would have had to certify that they participated in a mediation session where modification of the loan, rather than foreclosure, was discussed.
But in the last few hours of the post-midnight deliberations, that language was stripped out. Instead, the legislature is just going to study the possibility of mandating mediation — usually the kiss of death to any original idea on Beacon Hill.
It might be too bad if we miss out on mandatory mediation. The few places where it has been tried in a bankruptcy context include New York City and Orlando, where it has been a runaway success. Check out this article, where some attorneys are getting a 90% success rate on loan modifications in Florida, just because a bankruptcy judge is involved.
By Doug Beaton