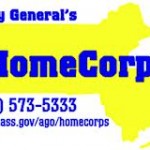 The latest government program for easing out of the foreclosure mess — at least for Massachusetts residents — is called HomeCorps, and it is being run out of the Attorney General's office, with the funds provided by the state's share of settlement money from the big banks over their recent lending practices.
HomeCorps got up and running in the spring and summer of 2012, so it's a relative newcomer to the mortgage modification merry-go-round.
So does it work, and how does it mesh with the bankruptcy laws?
Numbers announced in the Boston Globe recently indicated that 473 Massachusetts families have received loan modifications through the program, and that more than 800 other families have had short sales approved by HomeCorps?
Short sales?
That means that so far, a whole lot of people are losing their homes through the program, more than those who have are getting modificatons!
Although the attorney general's office can claim some good from the short sales — which put a new family into a building, rather than let it fester as an empty eyesore — the bottom line is that a lot of underwater owners are still having to abandon their homes.
For some, but not all, of these homeowners, a Chapter 13 bankruptcy case might still be the best way to stay in the property. There are qualification rules for Chapter 13; most notably, a homeowner or couple must have enough current income to pay off the arrears over five years — but the bankruptcy code has the advantage of being a national federal law — one that binds banks legally once a Chapter 13 plan is confirmed by the bankruptcy court
By Doug Beaton