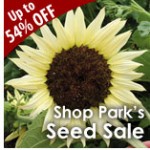 The Park Seed Company, whose ubiquitous catalogs light up our winter evenings with dreams of summer gardens, has been sold at a bankruptcy auction.
According to an article in Greenhouse Grower magazine, the South Carolina mail order seed company was purchased by a venture capital firm in Maryland. The purchase price was $13 million.
In a unique twist, the buyer, Blackstreet Capital, has agreed to keep all of the firm's workers employed for at least three years.
Several companies under the George W. Park Co. entity were consolidated last month by the bankruptcy court at the request of the trustee in charge of the companies. The trustee requested the consolidation after finding the financials of all the companies so entangled he could not establish which creditors belonged to each company.
The firm is a mainstay of South Carolina agriculture, and dates back to the Reconstruction days of the 1800's. Since bankruptcy promises debtors a fresh financial start, lets hope the new owners get Park Seed growing again!
By Doug Beaton