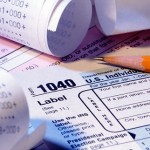 You just got a few thousand dollars from your tax refund and you want to know what to do with it. You know you will likely be filing for bankruptcy in the near future because you can't keep up on your bills. Does it matter what you do with your tax refund? Yes it does.
If a parent, or child has been helping you out, you may want to pay them back from the tax refund. Or maybe your car is on its last leg and you want to buy a new one.
But what you do with your refund might matter. If you pay back your relative, your bankruptcy trustee may contact them and demand that they pay it back – to the trustee to divide among your creditors.
If you are thinking that bankruptcy may be in your future, before you spend your refund check, speak with a bankruptcy attorney. That's the only way to be sure that your refund will be used in a way that will benefit you the most.
By Doug Beaton