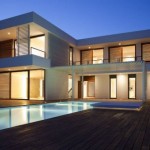 Right after writing about the Stallworth case and the dangers of putting houses into trusts before filing a bankruptcy case — and telling the story of a Massachusetts man who lost a lot of home equity in bankruptcy court that way — there comes another Massachusetts bankruptcy case involving, you guessed it, trusts and the homestead exemption.
In the Pierce case, no. 11-15718 the married debtors put their house in a revocable trust for their children in 2004, and selected themselves to be trustees.
They both filed a homestead declaration on the property in April, 2011 (usually only one person signs), then in June they both filed a Chapter 7 bankruptcy case.
The bankruptcy trustee took the position that the home, because it was in a trust, was no longer real estate subject to homestead protection. He also argued that the homestead documents were ineffective because the debtors just signed their names, and did not indicate on the form that they were signing as trustees of a trust.
This case had a happier ending for the debtors, however. The Massachusetts homestead laws were completely overhauled in 2011, and United States Bankruptcy Judge William Hillman decided that he could find no explicit requirement in the new rules that required people to sign homestead declarations as "trustee."
These debtors lucked out and won their case, and will get to protect their home equity through the bankruptcy case. However, they no doubt suffered several months of worry waiting for the judge's decision, and spent a lot on litigation expenses.
The moral of both these cases taken together is that you must be very careful if you have placed any property in trust and are thinking of bankruptcy.
The existence of a trust is not a deal-killer in and of itself, but these matters turn on really complex legalities, and you will need to provide your bankruptcy attorney with all the trust documents BEFORE the case is filed; that way, you will sleep well during the case, knowing your home is protected by the law.
By Doug Beaton